A day as a volunteer at the Jewish cemetery Währing!
Every second Sunday of the month, the association Rettet den jüdischen Friedhof Währing calls for volunteers. Today is Sunday 7/12/2020 and, in addition to my work as a financial officer in the association, I would like to volunteer once on site to help clear the wild growth at the cemetery. Equipped with gloves, pruning shears, and a wheelbarrow, I find a spot in the back of the cemetery near the cemetery wall overlooking the Arthur Schnitzler Hof.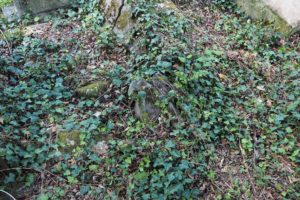 The weeds have taken over here and completely cover the gravesite. Who do you think is buried here? The first step is to remove the ivy vines, which should not be pulled out of the ground, but cut at the level of the soil layer. It is also important to note that ivy that grows on tombstones made of sandstone should not simply be torn away, as this would damage the sandstone.
In the next step, I manually remove the approx. 5 cm thick humus layer together with the foliage. After the removal of two wheelbarrows full of humus, foliage and ivy vines, a gravestone becomes visible, which must have stood on the visible pedestal in earlier times. It is a granite tombstone that should be in good condition. It is now interesting to decipher the inscription.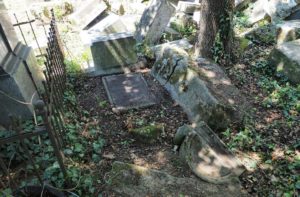 With a small brush I remove the remaining humus and with water from my bottle and a cloth I expose the inscription of the gravestone. Depending on the angle of incidence of the sun, the inscription is better or worse to read. In the early afternoon it is then time to decipher the inscription.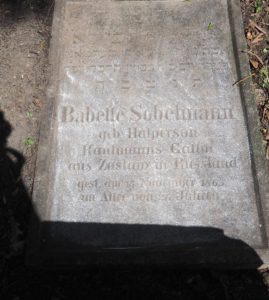 Here rests: Babelle Sobelmann (née Halperson), merchant's wife from Zaslaw in Russia d. on November 15, 1865, at the age of 25.
After two hours of work, I finish my job satisfied. I helped to give a gravesite a name again.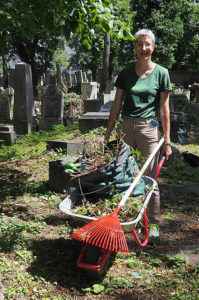 Andrea Schellner